The Idea – The Magic Ceiling
The Theory:
Step 1 –  Remove the ceiling light.
Step 2 – Insert projector into ceiling facing downward.
Step 3 – Mount a reflective hemisphere below projector. Flat side down.
Step 4 – Turn on projector (projection should project in 360 degrees around the top half of the room) The lower the hemisphere the lower the projection.
Step 5 – Map the projection into a circle which covers the hemisphere and removes any excess projection which would otherwise bleed onto the floor.
Step 6 – Map the projection to the shape of the room.
Step 7 – Project content.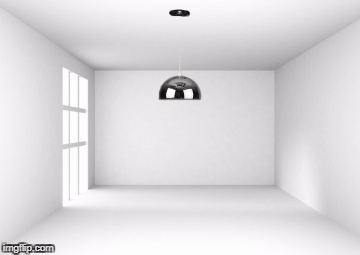 Other things that can and should be projected:
Notifications
Baby Monitor
Video doorbell
Clock
Calandar
TV/Videos
Photos